Commercial Cellular Repeater Systems
Cellular Repeater System Design and Installation
Frustrated with cellular reception problems in your office building, manufacturing facility or warehouse? This is probably due to your wireless carrier's signal not being able to penetrate the exterior walls of your building. Large or small buildings made of concrete or steel will effectively block your cell phone from receiving it's signal, making it useless inside.
Additionally, Long Island and many other areas are famous for pockets of poor cellular coverage due to both topography and cell tower zoning restrictions. If your business is in one of these 'cellular dead zones' then you and your staff are most likely out of touch whenever inside your facility. What good is a mobile phone without service?
The answer is a professionally installed cellular telephone and data repeater system.
Digital Provisions sells and installs complete cellular repeater systems for all wireless carriers across the county, including Verizon, AT&T, T-Mobile and Sprint, as well as most regional carriers. Using advanced RF surveying equipment we will design a system that gets you the wireless signal you need inside your facility.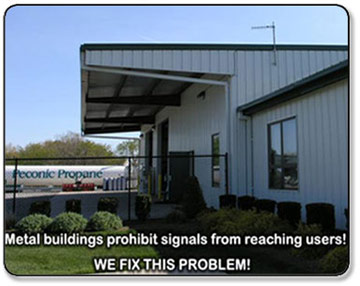 Have A Representative Contact You
or Call Us at 631-209-2600