Security Cameras for Libraries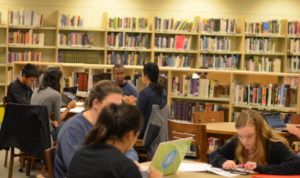 Does your Library have an up to date security camera system? Few people realize the unique problems that come with running a public Library. Having such a welcoming environment presents many security risks and because of this Libraries tend to be a hotbed of activity. Add to that the threat of Active Shooters and other real risks and the need for security becomes crystal clear.
Digital Provisions currently secures many Libraries throughout Suffolk and Nassau counties. Our clients enjoy the benefits of library security camera installations such as:
Library security camera systems help monitor for any criminal activity.  Recorded footage can be pulled up and reviewed to help resolve disputes as they arise, or to investigate issues. Digital Provisions provides concierge services to the staff when there are more important issues to deal with. Our clients call us to provide the video they need to the police so Library staff can attend to their essential duties instead.
Improved Security
Libraries on Long Island are enjoyed by many readers and researchers of all ages. Considering the high number of people visiting the library to read, research and browse the internet, installing security cameras throughout the library can help ensure everyone's safety.
Prevent Lawsuits
Not to be mean, but patrons can be clumsy. We have installed systems which have prevented many frivolous lawsuits from becoming expensive settlements. From the elderly lady who tripped in the computer area, claiming it was a stray computer wire that caused her fall, to the patron that was distracted and walked straight into a floor sign. In both instances the library was threatened with a lawsuit, until the patron was shown the video to prove there was no liability.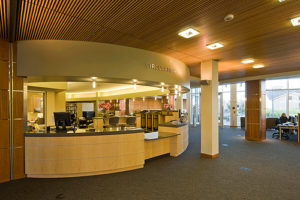 Strategic Camera Placement
All libraries are different in size and can have several divisions. Correct camera placement allows security staff to monitor different areas of the library and immediately identify possible threats from their desks. IP security cameras should cover circulation desks, children's area, teen rooms, local history rooms, bike racks, stairwells and other areas while effectively dealing with your unique challenges (stacks, multiple computers, etc.).
Monthly Health Monitoring and Reporting
Health monitoring and monthly reporting to make sure the security system is as reliable as it can be, minimizing outages and allowing you to depend on these systems when you need them.
Remote Monitoring
IP security camera systems allow libraries to access their video surveillance footage remotely. Directors and their authorized staff will find it easy to check in on the building at any time, especially in the event of a security breach. They will also be able to check in on operations such as if your parking lot was plowed the next time there is a blizzard etc.
Our NYS Office of General Services Contract allows us to service your Library quickly and efficiently.
FREE Site Security Design
Contact us today at (631) 209-2600 to speak with a security specialist who can visit your Library and perform a FREE onsite security design which you can bring to your board for approval at the next meeting.
Trusted Technology Integrators & Security Camera Specialists On Long Island. Contact Us Today!
Free Site Security Design
or Call Us at 631-209-2600