Video Security & Surveillance Systems – 101
Tired of Blurry Surveillance Photos?
We call it CSI syndrome after the popular TV show. The fact is that there is no way to digitally enhance a blurry surveillance image and suddenly make it appear clear. It is blurry because there simply aren't enough pixels to provide any more detail. Megapixel cameras change all of that. They capture so many more pixels that the image takes a lot longer to become blurry when you zoom in. This means that you will be able to zoom in on that person's face, and the best part is you will be able to do it right from your desktop, no crime lab required!
Why does my recorded video look choppy?
The real purpose of a properly designed security camera system is to get a clear image that you can submit to law enforcement, not to see a smooth video full of useless data. It's not much help if you see the subject moving smoothly but can't see any defining details to help identify them. By increasing the resolution and lowering the recording frame rate of non critical cameras you can vastly increase your storage time, thereby saving you money.
The sun washes out my cameras!
Open a bay door in your warehouse and your security camera can't adjust and you see nothing but a bright washed out glow in most of the image. Sometimes its only during certain times of the day. For example, the afternoon sun shines through your office windows and suddenly you can't see anything on your cameras for half of the work day. Many older cameras, any many current low end cameras lack the necessary optics and processing power to handle these harsh lighting conditions properly. You should look for a camera with Wide Dynamic Range (WDR) capabilities, these are designed to handle these situations, allowing you to see inside your office and outside the building at the same time, even with the sun shining in. WDR ratings can vary between manufacturers so be sure to ask for a demo of the camera under these conditions.
Infrared Lighting, can I really see in the dark?
If a true day/night camera with a removable IR cut filter is employed, and supplemental IR lighting is used, then the answer is most definitely yes. There is no substitute for proper lighting, be it visible or infrared. Using affordable IR lighting, incorporated into the camera or placed independently, you can effectively see in total darkness.
Should I just have my alarm guy install my cameras, or maybe our IT or Facilities staff can handle it?
Designing surveillance systems correctly is a very detailed task and requires the company doing the design to be on the forefront of the emerging technology in video surveillance. Ask your alarm company how many security cameras they install every year. Find out if they design the system themselves or if they just go to their supply house and buy whatever is recommended or on sale.
Handling the installation in house may be an option. However we believe in the 'one neck to choke' philosophy. Nobody wants to waste time pointing fingers if there is a problem. The staff at Digital Provisions are video security specialists and by calling us you can rest easy knowing your hired the best company for the job.
Licensed and insured, factory trained and equipped with the best tools of our trade, the Digital Provisions team strives to forge lasting relationships with our clients while managing their video security needs as they grow. If you are interested in securing your property with a video surveillance system or upgrading your existing one and are in the New York Tri-State area, contact us at 631-209-2600 for a free consultation.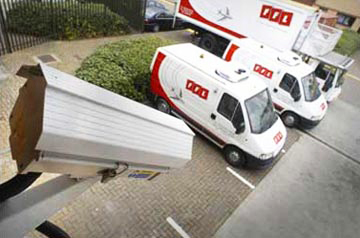 Have A Representative Contact You
or Call Us at 631-209-2600